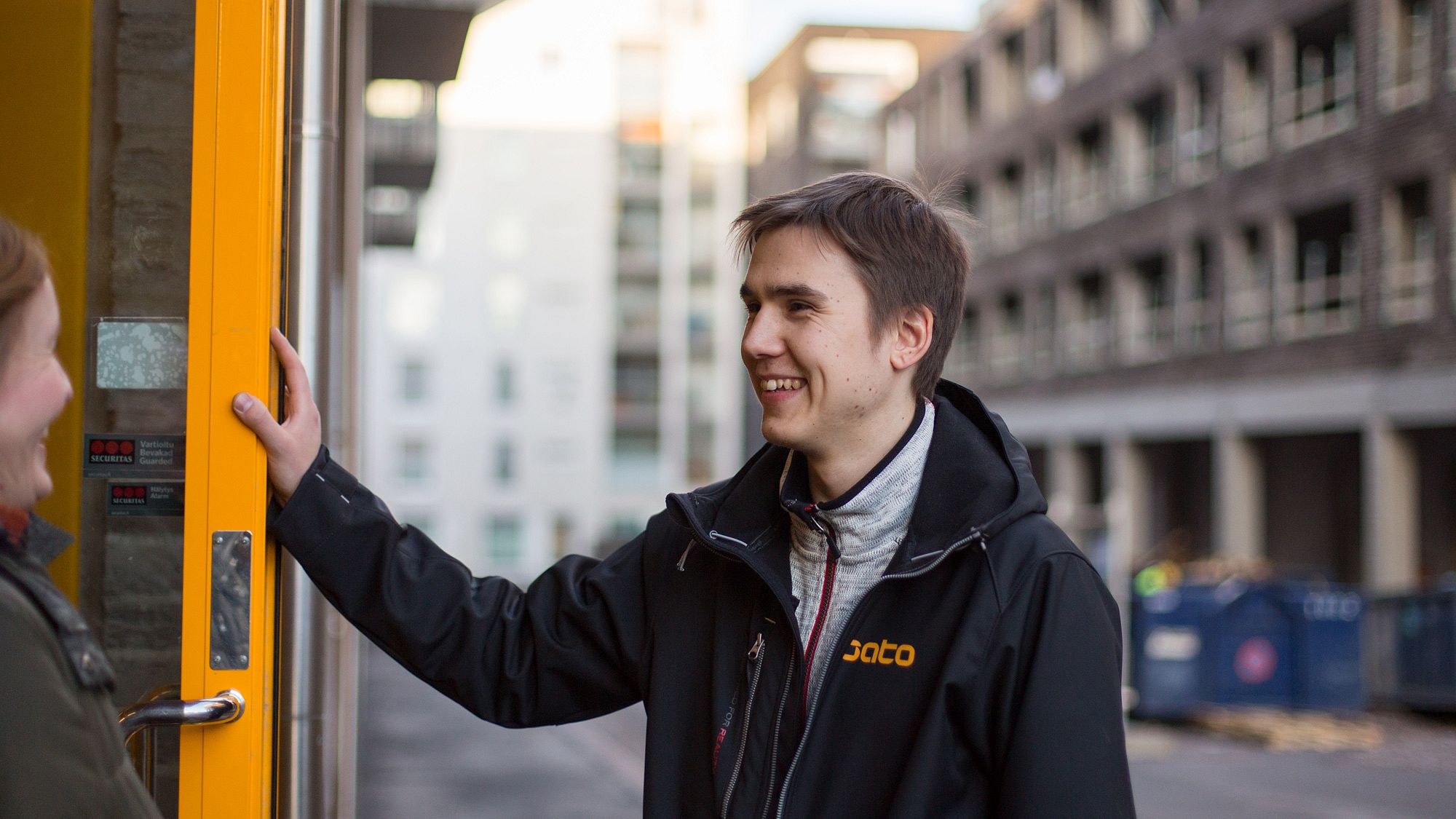 SATO House Experts are there when you need them
Anssi Muhonen is one of SATO's new building superintendents, SATO House Experts, who play an important role in residents' daily lives. A trusted and approachable person assigned to a residential building can help residents resolve their housing-related challenges and get the most out of their home and neighbourhood.
SATO's new House Expert Anssi Muhonen is a genuine "super" with considerable experience under his belt. Before joining SATO, he served for many years as the property manager at a school complex and at day-care centres, also working as a building caretaker on the side and living in the building he oversaw. This background has given him first-hand insight into providing support to residents, not to mention the diversity of life.
"Being a caretaker is more a way of life, and basically they are always available," says Anssi.
He started working for SATO in autumn 2019 as one of five new SATO House Experts – the objective of the new post is to introduce a trusted person in SATO's buildings whom residents can turn to for help with their day-to-day housing matters. Anssi's area of responsibility covers approximately 300 homes in the areas of Ruoholahti and Jätkäsaari.
"The role of the House Expert is somewhat less defined than that of a caretaker, but I think it's a nice return to the old convention of superintendents," reckons Anssi. "When one person becomes a familiar sight in a building, is easy to approach and right away listens to residents' concerns, we get to know each other very well," he adds.
A good House Expert is attentive to residents
Anssi was interested in applying for the job of SATO House Expert because it encompassed the best aspects of his former jobs, in addition to a number of new tasks: closer co-operation with the maintenance company and open houses and apartment inspections, for instance, are interesting new areas for him.
Upon being hired as a super, he took part in training, where he fully internalised SATO's down-to-earth Customer First strategy.
"I believe that supers are definitely an important resource in promoting this approach," says Anssi.
The Building Superintendent model is an extension of the change that was implemented in 2017, when SATO took over responsibility for its outsourced building management services.
Human to human
The House Experts' tasks include taking care of defect reports concerning SATO's homes and properties, performing minor repairs in homes and in HVAC and plumbing equipment, inspecting homes when people move out, and presenting homes to potential residents. House Experts work in close co-operation with property maintenance companies and guide and monitor their operations. Maintenance companies' tasks include, for example, being on call on weekends and evenings, doing yard work that involves the use of machinery and cleaning the stairwells.
SATO's Housing Director Juha-Pekka Järvenpää says that when recruiting building superintendents, special emphasis has been placed on a service-minded attitude, communication skills, professional pride and technical skills.
It is important that the customer is always treated as a person, considerately and sensibly.
"For example, a broken tap is technically easy enough to replace with a new one, but it's the simple things that turn a situation into a positive customer experience: saying hello and making small talk, removing one's shoes at the entrance, working without making a mess and cleaning up afterwards," Juha-Pekka stresses.
It is also crucial that the customer knows that the matter has received attention and is being taken care of. According to Juha-Pekka, things are clearer when the superintendent who works for SATO is able to, as the property owner's representative, offer direct assurance about how the work will proceed.
"All in all, our goal is to increase and enhance the presence of SATO employees and their availability in our buildings. The end result will be an even better resident experience as SATO's customer," he says.
Expect as many as 60 building superintendents in future
The SATO House Expert operating model was introduced in December 2019, initially for some of SATO's buildings near Helsinki's city centre and in Espoo's Soukka district.
In addition to the five new building House Experts, SATO aims to hire as many as 60 more people for the task going forward.
Anssi's initial experiences working in Ruoholahti and Jätkäsaari have been positive throughout the learning process. He says that he will only gain a full understanding of the job, however, once he becomes more familiar with his own buildings and routes. During his first few days on the job, Anssi says he already responded to a situation that accurately reflects what it means to be a building superintendent.
"I went to replace broken fixtures on a toilet seat, and the same defect report stated that the resident was unable to change their refrigerator light bulb. Normally, such a matter would not be handled by the maintenance company, but naturally I had time to stay and help out. While we were disconnecting the power cord for safety, the cord fell behind the fridge, which we then had to move. I patiently waited while the resident took the opportunity to vacuum the dust up from behind the fridge. I believe this is a great example of being flexible and taking the customer's needs into account," Anssi sums up.
Would you like to live in a house taken care by Anssi? Take a look at available rental apartments in the area »