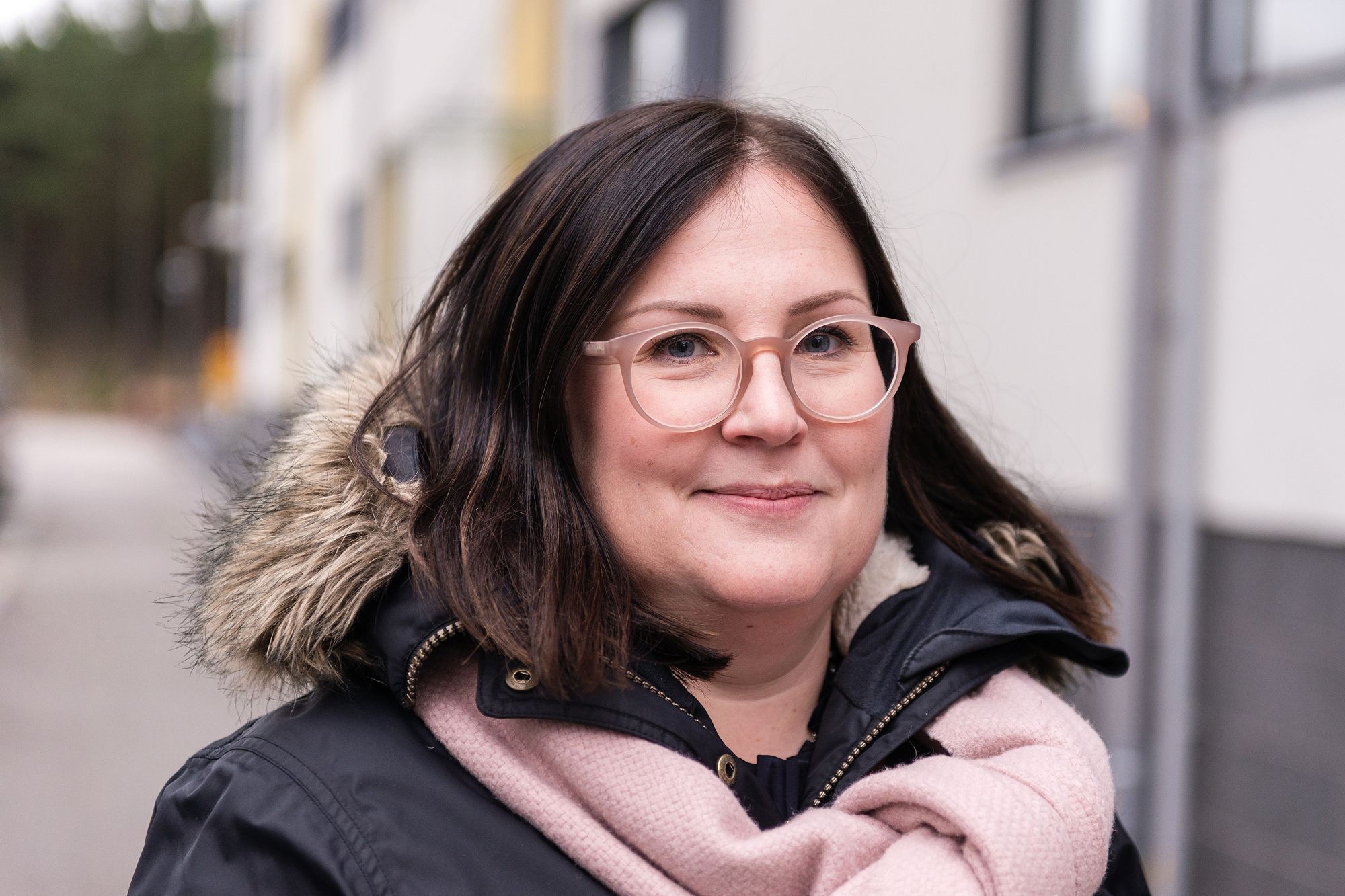 Service Manager Piia is part of residents' daily lives: "I solve problems to make the building feel like home"
Service Manager Piia Matilainen has many roles: messenger, building manager, therapist and recycling police. We followed Piia on a Monday morning.
The morning has been busy for Service Manager Piia Matilainen. It's only ten o'clock, but she has already checked a renovated SATO home, replied to messages sent by residents during the weekend, and responded to several service requests.
Matilainen is responsible for 38 buildings and 1,400 residents in eastern Helsinki.
"For the residents, I'm the face of SATO. My job is to solve problems to make living easy and to make the building feel like home," Matilainen explains. "Sometimes I feel that the residents are sharing everything, which is only good, as we want to understand our residents' lives and be close to them."
The scope of her work varies from small issues – renovation needs, plants in the yard, noise from the neighbours, use of the laundry room – to major problems, such as extensive water damage.
"And sometimes the residents only need someone to talk to," Matilainen says with a smile. "Sometimes I feel like I'm also a part-time therapist."
The conductor of residents' daily lives
Matilainen became a service manager in April 2017, when this new job description was created as part of SATO's service model renewal project. The service managers bring SATO closer to the residents. Previously, the residents would reach SATO through a maintenance company and a building management company. Now the service chain is shorter, as each SATO building has a service manager.
Matilainen seeks to visit her buildings once a month to meet residents face to face. And that is next on her agenda for this Monday: she drives to Aurinkotuulenkuja 6 in the Vuosaari district of Helsinki for a Meet Your Service Manager meeting.
Five or so residents have soon gathered in the meeting room of the building. Piia knows most of them from before.
"Is everything fine here again?" Piia asks, referring to a resident who had caused disturbance; they moved away recently.
The residents tell her that things have improved in that respect. However, other problems need to be tackled. During the 30-minute meeting, Pia makes notes about a meeting room reservation, a request about a sauna after a run, problems with stairwell doors, a neighbour causing nighty noises, a leaking shower and a wrongly issued parking ticket. Piia promises she will contact the building contractor, property maintenance technician, parking control company and police, among others.
"Often I find that I'm first and foremost a messenger. I listen to what the residents have on their mind, and I forward the issue to the appropriate person or party," says Piia.
One of her colleagues compared service managers to conductors who orchestrate other operators to ensure that the residents' problems are solved according to their needs.
Cooperation between cultures
The next building on Piia's agenda is also in Vuosaari. She has promised to monitor the waste collection point for an hour with a property maintenance technician.
"The residents have had problems with the waste collection point. Even though we have been providing information about waste management, rubbish keeps being left outside the bins, and this attracts rats and birds," Matilainen explains.
According to Matilainen, cultural differences and the use of shared facilities often pose challenges, as does the lack of a common language.
"The residents of a building can be from as many as 25 different countries. We try to reconcile different habits and behaviours, and reach agreement on how to use the laundry rooms, yards, stairwells and waste collection points. We provide information and help, and we also provide advisory services in the residents' native languages in cooperation with a partner," Matilainen explains.
During the half-hour at the waste collection point, only a few residents take out their rubbish. Matilainen and the property maintenance technician greet them cheerfully, and the residents greet them back. This time, there are no problems with the rubbish, so Matilainen heads towards the third and last building on her agenda for the day.
Nothing beats face-to-face meetings
Christmas coffee is served in the meeting room of an assisted living facility for seniors on Juorumäenkuja.
"How is everyone? Any messages for building maintenance or SATO?" Matilainen asks.
The residents seem happy with their lives. There is discussion about the building becoming smoke-free and about the continuation of the residents' committee. The residents decide that a residents' committee is no longer needed, as the service manager visits the building regularly.
"A direct contact works much better. Previously, we only met the building manager once a year or so. This is a great improvement that we really appreciate," say the residents.
According to Matilainen, face-to-face meetings with residents are the spice of her work. There are many problems to solve, but that also makes the job rewarding.
"When you have solved a problem, no matter how small, it's very rewarding to know that you have been able to help the residents."
Update 24th Jan 2020: Piia is now working as SATO's Community Manager, and is responsible for i.a. our neighbour mentor activities.