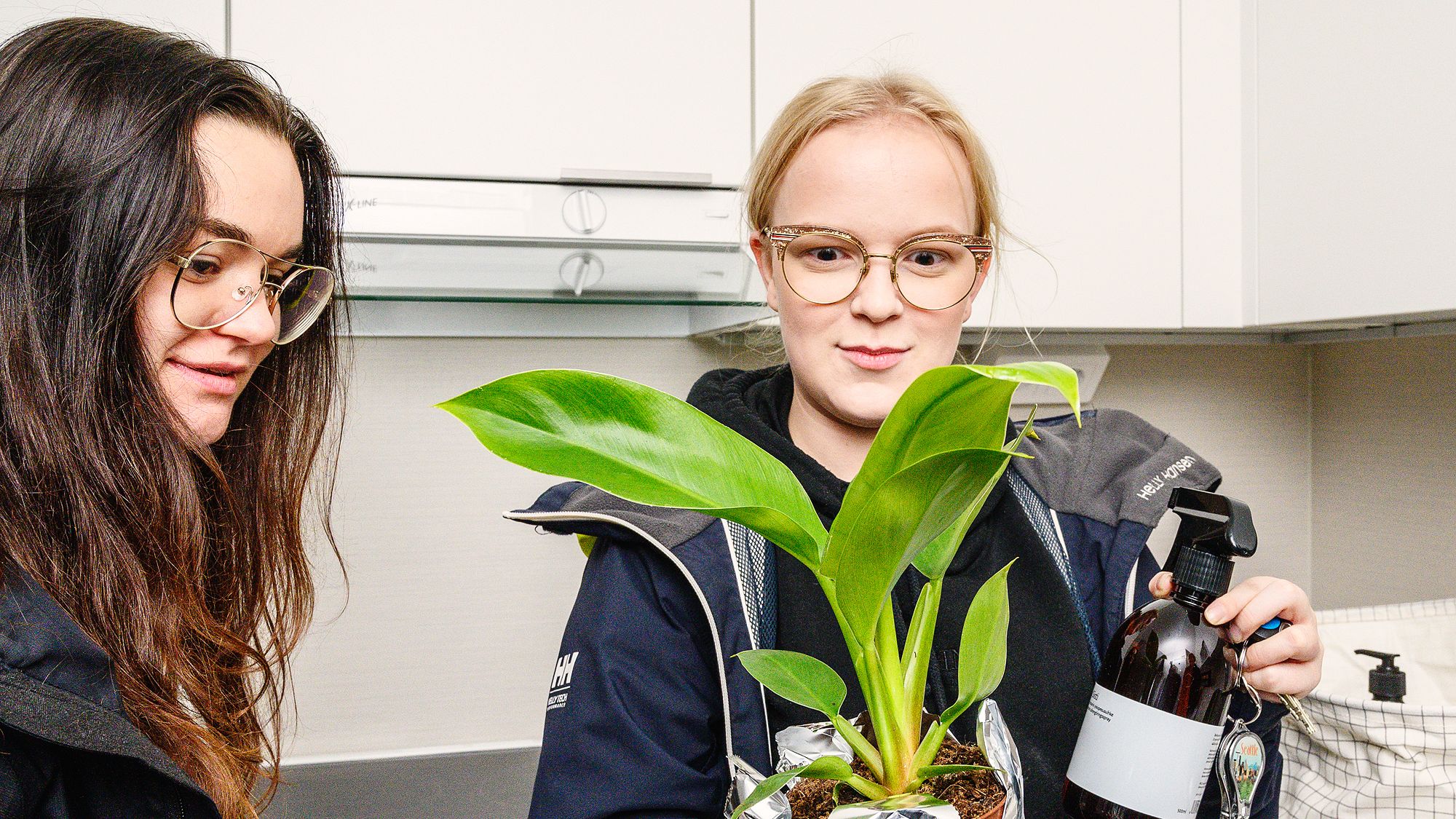 Welcome to Your New Home Pack
Moving home can be a stressful experience. We at SATO know this well and decided to introduce a Welcome to Your New Home Pack for our new residents to ease the stress of moving day.
Annastiina Piirainen's father backs up the van into the yard of Raiviosuonmäki 7 and the barrage of boxes begins moving. Annastiina and her future flatmate Emmi Nuorala start to lug boxes from the van with Dad's help. Annastiina and Emmi will be sharing the rental flat in the Martinlaakso district of Vantaa with their friend Raakel.
They are not the only ones carrying in their things. It is but 9 am but dozens of the more than 100 new residents of this newly completed SATO building are already making their way into their new home.
Cardboard banana box, the mover's best friend.
Annastina and Emmi tote box after box up the stairs to floor 4 – with so many people moving in, the lift seems to be constantly taken. On commission from SATO, moving company Muuttoyritys Niemi has provided extra manpower on site with dollies to help in moving beds and washing machines.
But the real surprise awaits inside the apartment.
Perfect flatshare
Annastina, Emmi and Raakel have chosen to make their new home in Raiviosuonmäki because of the excellent transport connections in the area and the fact that they all get their own room in the flat.
"There's a gym and a sushi place close by as well, so the decision was an easy one," Annastiina laughs.
Emmi chimes in to comment that considering how new and nice the apartment is, the rent seems more than reasonable. The surfaces are clean and fresh, and the apartment gets plenty of light.
As soon as they open the door to their home for the first time, the young ladies notice the Welcome Pack left on the countertop by SATO. The pack is designed to help new residents during their first day in their new home, when boxes are yet to be unpacked and things are hard to find.
Annastiina and Emmi were delighted with the Welcome to Your New Home Pack, especially the house plant.
Annastiina and Emmi start to examine the Welcome Pack, which turns out to include toilet paper, liquid soap and all-purpose cleaning liquid from Cilla's, kitchen towels from Finlayson and a house plant.
"It's so nice to have a gift like this waiting at our new home, it makes us feel really welcome here," Annastiina says happily.
The house plant is especially appreciated. Unsure as to what kind of plant it is, they decide to leave its care up to Raakel to ensure that the plant stays alive.
Balcony for Lola and Zlatan
Outside, Krista Oja and Santeri Viitasaari are also hard at work moving in. The couple are relocating from Klaukkala to Vantaa, and Krista will start her first shift at her new job at 7 am sharp the following morning. Transport connections were a vital consideration when choosing a new home.
Krista is in good spirits about the new phase of life they are starting.
"Being able to bring our cats Zlatan and Lola to this new home makes us especially happy," Krista says.
Inside, the cats are also taking in their new surroundings. Zlatan has taken refuge in a drawer of the bathroom vanity unit to ride out the storm of moving boxes but Lola boldly steps out into the open, her eyes as big as saucers.
"The large glassed-in balcony is perfect for our cats. We will put in a cat tree there so that they can safely watch the birds and squirrels in the treetops," Krista comments.
A cup of coffee on Martsari
K-Supermarket Martsari also wanted to welcome the building's new residents to Martinlaakso. Supermarket owner Mikko Länsiluoto put a lot of thought into what should go into the supermarket's 'welcome home' gift bag.
The traditional housewarming gift of bread was omitted due to shelf life considerations but its equally traditional partner of salt was included. Mikko also decided to offer new residents 'a cup of coffee on the house' by including a package of ground coffee as well as biscuits.
"We threw in a couple of discount coupons, too, because people moving into a new home often find that they need to buy all sorts of things."
All signs would seem to indicate that this SATO building in Martinlaakso welcomes its new residents with open arms, people and cats alike.