Raiviosuonmäki 9
8 rental apartments available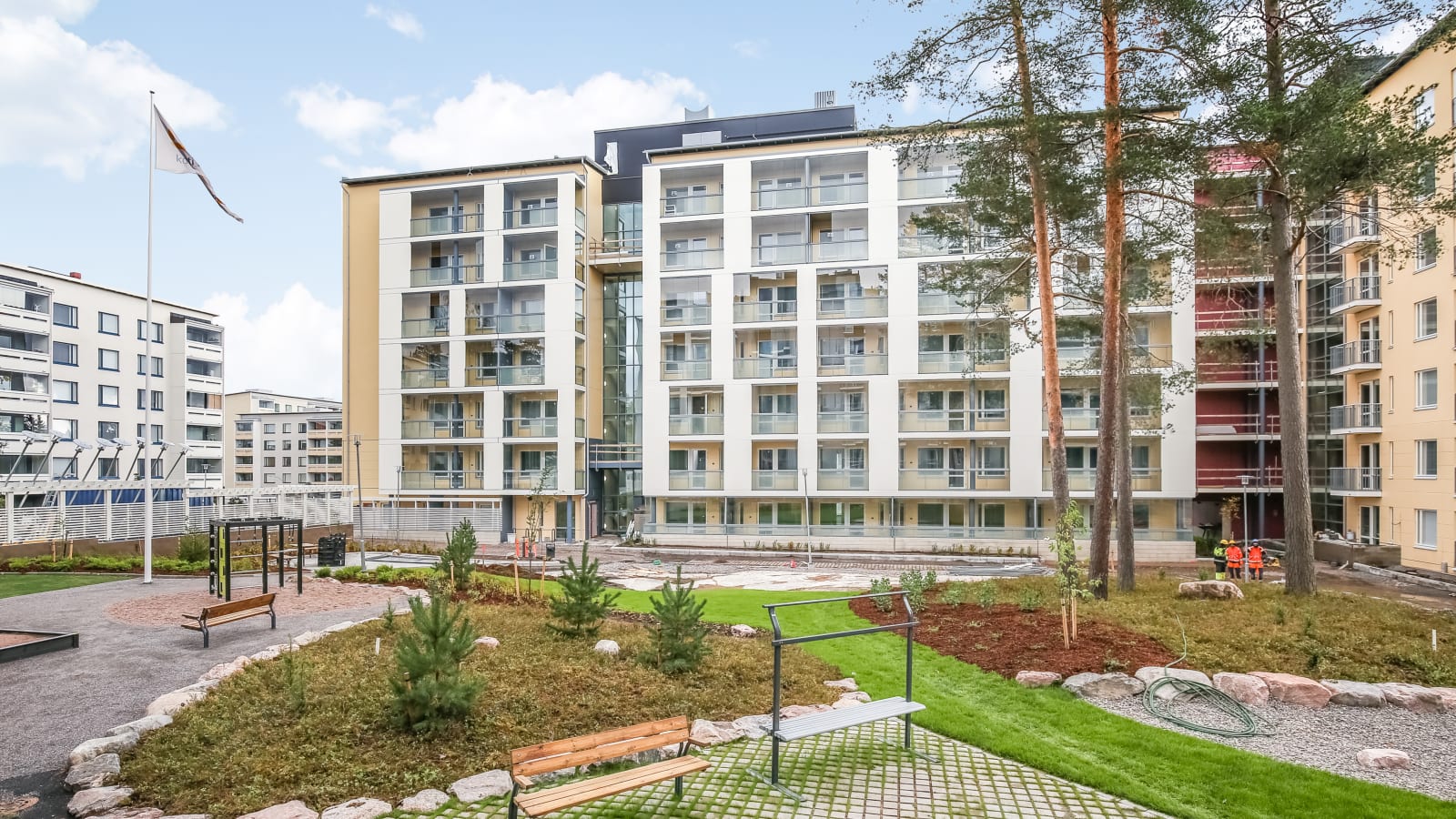 New rental homes in Martinlaakso
Smooth everyday life by the Ring Rail Line
An area enjoying a new revival, Martinlaakso offers an excellent environment for those who want to live in a modern rental home but appreciate the excellent services and good connections offered by a well-established residential area. Raiviosuonmäki 9 forms a leafy park-like complex with the neighbouring building. The apartments are easy to furnish and accessible despite being very compact. Residential comfort in this new building is also further increased by modern communal areas: the laundry room with drying cabinets, baby transport and outdoor equipment storage and sauna sections are located on the ground floor. In addition, the laundry room, drying room, clubroom and sauna section with four saunas and a terrace for cooling down of Raiviosuonmäki 7 can be used by residents of both buildings. Car parking spaces are located on the northern side of the grounds.
Built with plenty of space between buildings, Martinlaakso is a district undergoing renewal and famous for its leafy areas for outdoor recreation as well as good transport links. The train station is within walking distance, and the services of Martinlaakso shopping centre can be found next door to the station. Library, health station and Kela office are also found nearby. In this child-friendly area there are several day care centres and schools, including primary and lower secondary as well as a general upper secondary and the Mercuria Business School. Those into physical activity and spending time outdoors will wind a diversity of routes as well as a lit cross-country skiing track. A friend of culture, in turn, heads to the culture house Martinus.
For transport links, see the HSL Journey Planner »
Attic or cellar or storage room
Real estate information
Location
---
Apartment count
---
Building count
---
Apartment types
studio, 1 br., 2 br., 3 br.
---
Apartment sizes
studio: 25.5 - 37 m2
1 br.: 41 - 41 m2
2 br.: 52 - 55 m2
3 br.: 67 - 67 m2
---
Common areas
Air-raid shelter, Attic or cellar or storage room, Outdoor storage room, House sauna, Laundry house
---
Parking
---
Other
---
Service manager / House expert
---
Maintenance company