Accessible living: How a rental home was renovated for a person with reduced mobility
Photos
Tiina Salminen, Sarah Karjalainen
Riding around in her electric wheelchair, Beataleea Kuoppala and Charly the dog are a familiar sight in the Linnainmaa district of Tampere. For Beataleea, a rental home that has been renovated to make it accessible enables independent and self-determined living – with her canine companion.
Almost ten years ago, Tampere resident Beataleea Kuoppala found a SATO rental home in Linnainmaa with an ideal location: the services were near and the shop and the library were an easy ride away in her electric wheelchair.
The accessibility of the rental home was not allowed to form any figurative – nor real-life – threshold preventing her from moving in. With assistance from City of Tampere disability services, the SATOhome was made accessible before Beataleea moved in. She has enjoyed living in the same building ever since but has moved into another apartment she likes even more.
Rental home renovated to make it accessible
Small modifications increasing accessibility were made to the SATOhome. For example, the thresholds were made lower and an interior door that obstructed movement was removed from the entrance hallway. Toilet and cabinet doors were replaced with accordion doors, which are easier to open from a wheelchair. The apartment layout, on the other hand, was already functional.
"The home is large enough for me to be able to move around in my wheelchair. There's also room for my aids, such my other wheelchair and standing frame. But then on the other hand, the apartment is the right size in that it's easy to keep clean," Beataleea lists.
Having her own sauna also brings joy to Beataleea's everyday life. The sauna is not fully accessible, but that does not prevent her from enjoying the heat.
"I love having a sauna. Although the sauna's reflected in my rent and these days also in my electricity bill, it's wonderful to be able to heat the sauna if I like."
"My mobility is good enough for me to be able to access the sauna by myself, although only the middle bench. But the heat's nice enough even there."
Living a self-determined life in her own rental home
Having previously lived in sheltered housing, Beataleea wanted the independence of her own rental home and the freedom to decide on her own schedules. The modifications made to the SATOhome have made it possible for Beataleea to life her life just the way she wants.
"Your own home gives you freedom and creates confidence in being able to live an ordinary life. I can do things according to my own schedules. I can eat what I want and at whatever time I want. I've also been able to choose my own assistant."
Having her own place also means she can host visits by her family – all of her twelve siblings and their families.
"My family visit me often, and the kids also sometimes stay over. It's great that my family and even the kids like it here in my home."
The best thing about having your own place is the canine companion
All kinds of family members are welcome to SATO rental homes – including pets. A big animal lover, Beataleea is particularly happy about the fact that the freedom provided by her own place has enabled her to get a dog.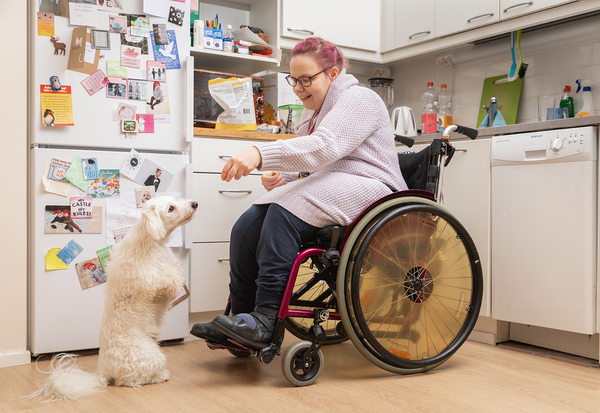 Clever Charly The Dog is a familiar tail in the neighborhood, and Beataleea's Numero One pal.
"Dogs weren't allowed in the sheltered housing unit. That was really upsetting for someone like me who loves dogs."
Today, a Coton de Tuléar called Charly is an important part of Beataleea's life. Charly gets to go for walks with the assistant, but Beataleea is also able to take him out if necessary. The apartment also has a back garden with a ramp where Beataleea and Charly can spend time outdoors in their private space.
Demand for accessible housing increasing
SATO Planning Manager Jussi Väisänen believes that accessible housing will be in greater demand in the future. The population is ageing and the use of various types of aids will become more common. To respond to this, SATO's new rental homes are designed so that they are also suitable for persons with reduced mobility.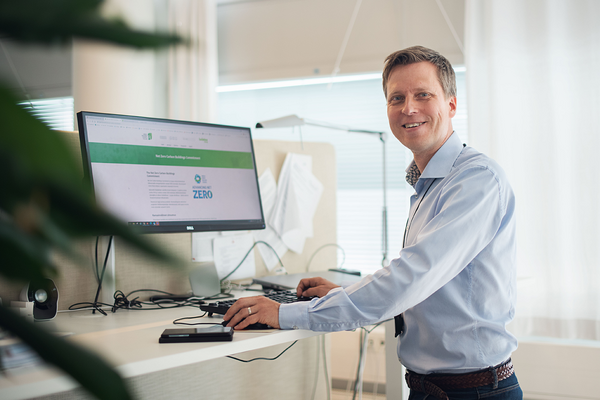 Planning Manager Jussi Väisänen finds it very important for SATO to have apartments capable for accessibility renovations.
"In the kitchens, the built-in oven is placed above the floor level and in the bathrooms the shower wall panel can be removed. The buildings' shared sauna sections are designed for accessibility and feature an accessible toilet. Threshold heights are checked and at least one access route on the building grounds is made accessible," Jussi lists.
Jussi finds it important that rental homes can be renovated to make them even more accessible, as was done for Beataleea. Beataleea is very pleased with SATO and at the same time emphasises the importance of accessibility.
"Many thanks to SATO for allowing the disability services to make the modifications to this rental apartment. I'd like also other housing companies to wake up to the fact that changes like this can really be made."