SATO is developing its online services as a whole, in co-operation with residents. OmaSATO, a one-stop shop for housing information and services, has been available since summer 2018 and now features new customer benefits and building-specific digital noticeboards in addition to its basic functions.
All housing services in your pocket – that was the goal when SATO started building the OmaSATO service. SATO wished to develop a digital service to help residents' daily lives, from managing practical matters to receiving information. OmaSATO, which was launched in August of 2018, allows residents to, for example, check their contract and payment details, read their building's bulletins, report defects and send messages to the customer service.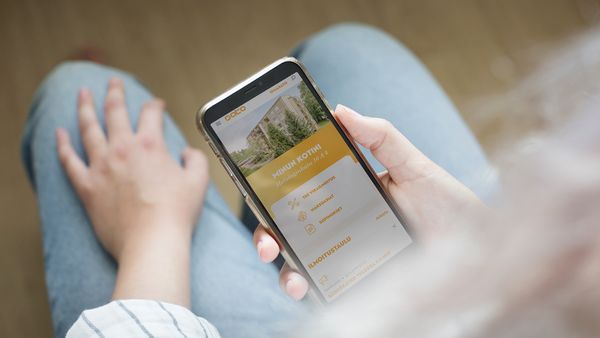 "OmaSATO is an easy way to communicate matters to the housing company and SATO," says Pekka Engblom from Espoo. "I use it to read the housing company's bulletins and fault reports. I get fast responses and I can see when things have been fixed."
Additionally, it is possible to make cheaper purchases through the OmaSATO service. SATO has negotiated deals for its residents that can all be found on OmaSATO. Laura Nurmi, Development Manager, Digital Services, reels off a list of deals:
"There are dozens of deals and they cover anything from moving to cleaning, installation services, food deliveries, subscriptions and sports. We are constantly looking for new partners to improve the offering on OmaSATO."
Getting to know your neighbours
This year, new features that support good living and neighbourliness have been added to the service. The temperature data for each resident's apartment can be found on OmaSATO. Temperature sensors have been installed in 17,000 SATO buildings, allowing easier adjustment of the indoor temperature and fast observation of any deviations. Furthermore, all of the buildings have their own electronic noticeboards that contain current information and residents' own notices.
"The noticeboards boost the sense of community and communication in our buildings. They can be used to report e.g. yard work parties, house-warming parties or community summer parties," says Nurmi.
Ideally, the electronic noticeboard can lead to friendly meetings with people, where residents get to know their neighbours a little better.
If one resident wants to learn how to knit and another has too much yarn, a short message could be the start of a beautiful friendship.
Team effort to develop SATO's digital services
OmaSATO is continuously developed as part of SATO's digital channels. The residents have been involved from the very start. Interviews have been carried out with the Pulssi resident panel, looking into the need for housing services and the overall importance of the home. The OmaSATO concept emerged as a result of these discussions.
"We regularly organise customer workshops and interviews around various themes. Our principle is that new functionalities are tested and validated by residents before they are released. People can give feedback on OmaSATO at any time but we also carry out separate customer feedback surveys," says Laura Nurmi.
Residents are the best experts
Revamping OmaSATO is part of SATO's broader digital service development programme. The goal is for the customer experience to be seamless from the moment they consider moving to when they begin looking for a home and, finally, when they move in.
This is why SATO's channels – sato.fi, the FIND A HOME service and OmaSATO – have been developed as a whole. Director, Marketing and Communications Miia Eloranta describes the idea behind the renewal:
"We want our channels to feel and look similar and be equally easy to use. Users can now sign in already when looking for and applying for an apartment, and the same passwords will work later when they are SATO's customers. This allows us to offer more tailored content and new services."
SATO is focussing on digital services because its goal is to be a pioneer in digitalised housing services.
Next on the table is, for instance, a to-do list for people moving house, but in the longer term, the services and benefits assembled in OmaSATO may enable, for example, the tailoring of housing for seniors or those learning to live on their own. Although the project leaders and coding team will take care of the final practical implementation of the digital services, Miia Eloranta wishes to separately thank SATO's special experts:
"Of course, I'm referring to our customers. SATOhomes have such great residents that we couldn't have made it this far without their help. Sometimes our plans have changed midstream and that's a good thing. We will continue to use this method," Eloranta concludes.