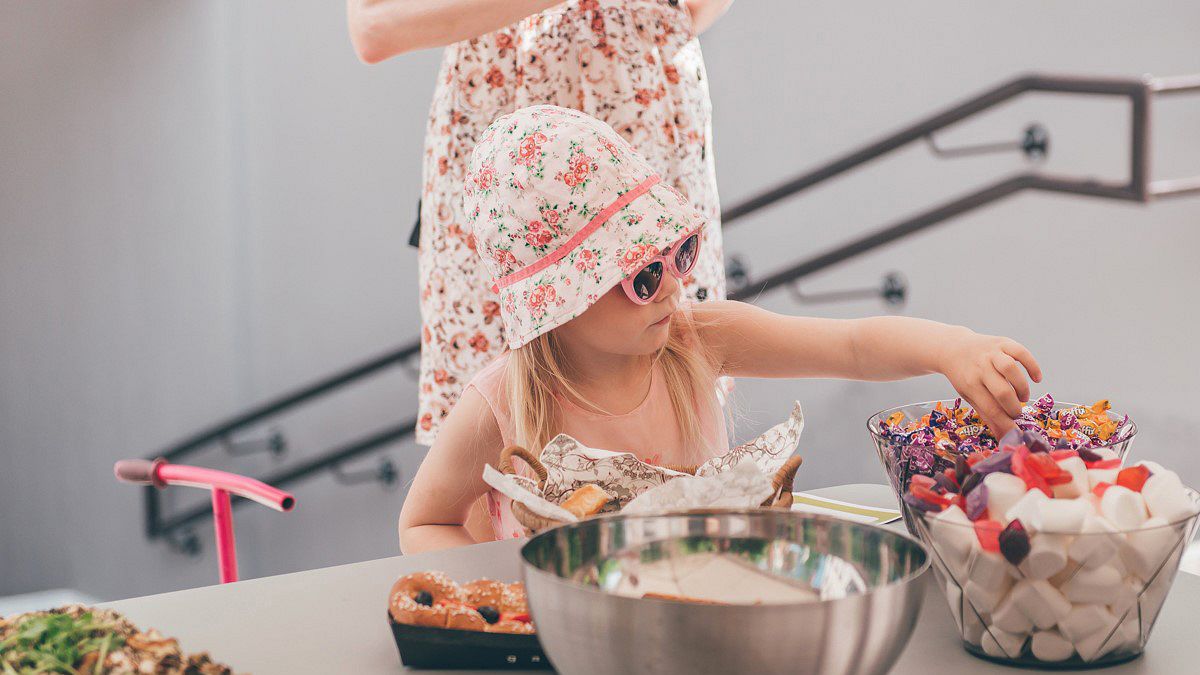 What goes into a successful Backyard Picnic
What goes into a successful Backyard Picnic? Sunshine, treats and togetherness. A sunny Saturday in June was the setting for SATO's first ever Backyard Picnics, attended by several hundred residents at a total of 14 buildings in the Helsinki region, Turku and Tampere.
It is Saturday, 8 June, and the sun is blazing down from a cloudless sky. It is 11 am and the first ever SATO Backyard Picnic is getting underway at Raudikkokuja 5 in the Hakunila district of Vantaa. A few SATO employees have arrived in good time for advance prep: tables and chairs have been set up in the backyard along with a party tent festooned with colourful bunting. The buffet table features feta and spinach pastries, crisps, sweet coffeebread and marshmallows.

It isn't long before residents from the nearby buildings find their way to the picnic site. The first to arrive are groups of children, then their parents join in and a little while later the more elderly residents make an appearance as well. People are getting along swimmingly – some know each other from way back, others are just now making new friends.
The Raudikkokuja 5 building has recently undergone extensive renovation and its residents have only moved into the building in May. "The renovation left these apartments really nice. For example, my son's studio apartment has air conditioning," says Miikka Elomaa, whose son lives on the top floor of the building. Right now, he is doing his military service but he wanted to secure an apartment in Raudikkokuja so that he could be close to his friends.
Friendship appears to be the overriding theme for the Backyard Picnic as well. A group of teenagers comes over to see what is going on and ends up staying for the duration. The treats are going down… well, a treat. Everybody seems to be enjoying the chance to spend a summer's day together. The idea behind the Backyard Picnics is indeed to encourage residents to become more involved. Good neighbours make a big difference when it comes to enjoying your home and your home building.
Miikka Elomaa joined the Backyard Picnic with his mother Elli, who brought along coffee and strawberry cake. The cake is a huge hit – fifteen minutes later, it is gone, with nothing but crumbs left on the plate.
"I really should have made a bigger cake, enough for everybody!"
A moment later Elli stops by her apartment to get her camera. A quick snapshot, and the Backyard Picnic becomes an immortal memory.
The sun is beating down as the day moves on and many take up a place in the shade. One of the picnic-goers is gushing about the feta pastries and points out how important it is to get enough salt when the weather is hot. Kids are dangling upside down on the jungle gym and seem oblivious to the heat. The City of Vantaa also contributed to the Backyard Picnic: grilled sausages and corn on the cob are flying off the city's grill.
A little while later an elderly lady joins the picnic, bringing with her large bottles of cold orange soda and Coca-Cola . Left over from her house-warming party in May, she says. She may not be a fan of these particular beverages, but the kids at the picnic sure are. In no time flat, the bottles are empty.
The mood at the Backyard Picnic was relaxed and friendly from start to finish. Basking in the sunshine, no one was in a rush to get anywhere. It has thus been established: what goes into a successful Backyard Picnic are plenty of sun, treats galore and loads of good cheer.