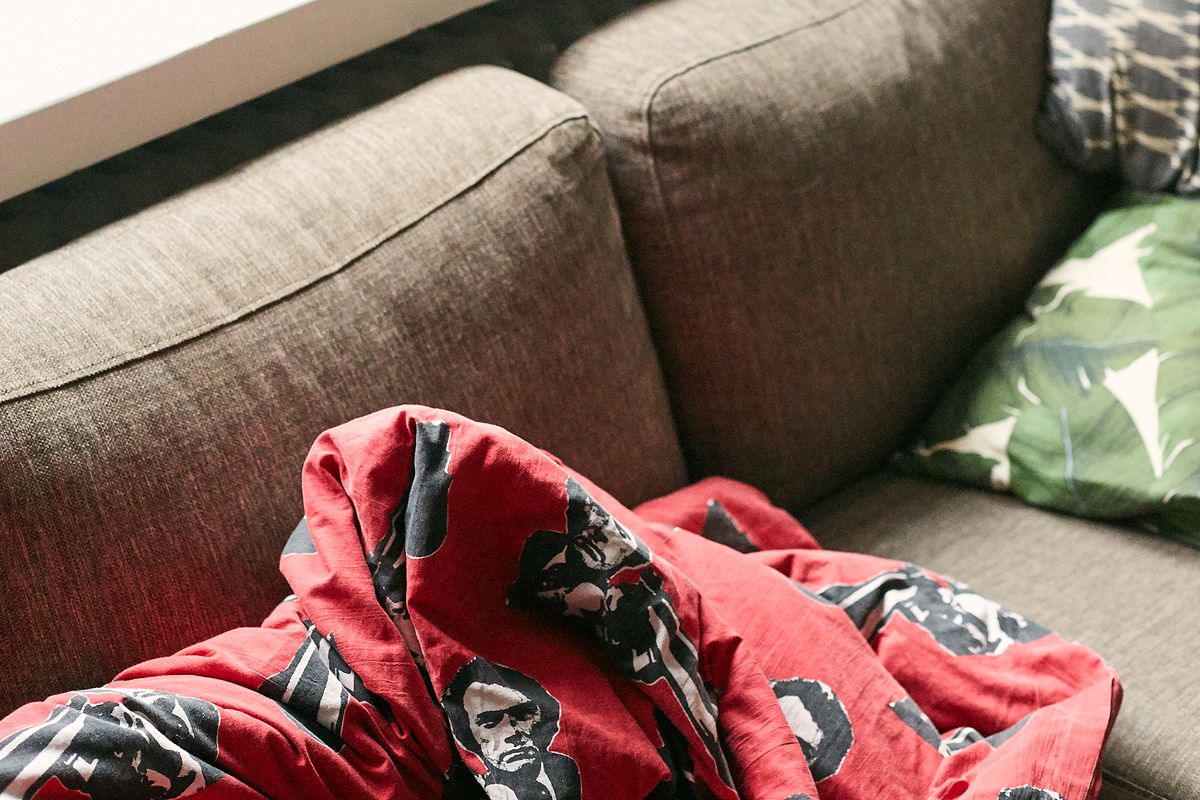 A place to leave from and a place to go home to
Anyone's life can shatter in an instant, and with it their work, home and safety nets. SATO and the non-profit organisations No Fixed Abode and the Rehabilitation Foundation have teamed up in a project to help people who are down on their luck find both a home and a job – all the while listening closely to what the participants themselves have to say. The project is called #kämppäjaduuni, i.e. #homeandjob.
"People's hopes and needs don't disappear just because their life situation or finances change. It's important to also talk about dreams and aspirations."
Tarmo used to be a construction worker. Over the decades, he has held temporary jobs in many construction companies, with his longest stint being at an aluminium company, working as a furniture installer.
Twenty years ago he moved from Central Finland to Vantaa: "That was also for aluminium work, for a relative, which is not the best option," he says in retrospect.
Tarmo nevertheless stayed in southern Finland. He finally settled in Vantaa's Seutula neighbourhood, near Katriina Hospital. "I was living with a woman, but things started to go downhill in the relationship."
Since he couldn't stay in Seutula after the break-up, Tarmo moved to the Kannelmäki area of Helsinki, where he moved in with the son of a friend. "We set up a place for me in some business premises."
He eventually had to move out of that place, too, when his friend's lease agreement expired and the business premises had to be relinquished. Tarmo was just under 60, and homeless, officially for six years already.
Link between one's home and job
Tarmo found his way to Helsinki's Malminkartano, a red and brown brick building that houses the Rehabilitation Foundation, a non-profit organisation that specialises in developing rehabilitation in Finland. The Foundation creates research and development projects and rehabilitation services that support the work, studying and functional ability of people who are facing difficulties in life and help them regain control of their job, home and life.
A connection has been made between these aspects: having a home that requires rent to be paid provides new incentive to find and hold on to a job. And when one has a home and a job, other pieces of life gradually begin to fall into place.
Tarmo first found a place to live in a temporary shelter, and he found part-time work in the Foundation's own workshop.
When Tarmo went to the Rehabilitation Foundation, the foundation was also running a supported employment project (called KUTU), which looks into the barriers and opportunities that the long-term unemployed encounter in working life, and also supports them in their working life skills. Participants in the programme are generally not homeless, but when long-term unemployment was accompanied by homelessness, the project also steered people to find a home through the new #kämppäjaduuni (#homeandjob) programme. The homes in the programme are SATO's rental homes.
This is also the route Tarmo took. He filled in the application with a counsellor from the Rehabilitation Foundation, and "the next day, at a quarter to eleven, I got a phone call saying that I have an apartment," he recalls.
The apartment was a studio in the Helsinki neighbourhood of northern Haaga. The rent was negotiated at a level that was manageable for Tarmo – at the same time, his part-time work at the workshop switched to a full-time job.
Tarmo moved into his new home on the 15th of May 2018.
It could happen to any of us
Anna-Kaisa Liimatainen is a researcher, job shaper and one of the people running the Rehabilitation Foundation's KUTU project. She explains that the project's long-term unemployed were selected through an interview process.
"The project is aimed at people who are highly motivated to return to working life. Some of them were steered towards the #kämppäjaduuni pilot because we saw something to be gained in employment and housing collaboration," says Liimatainen. "Some of us who work on the project are also experts in unemployment, with first-hand experience. Our project has also included meeting with a worklife psychologist."
The support provided is always individual, and it is based on the customer's own life needs.
It is important not only to map out needs, but also to listen to the hopes of the unemployed and the homeless. What kind of job and home would they want?
"These have been highlighted in the #kämppäjaduuni project. Everyone has hopes when it comes to their home. People's hopes and needs don't disappear just because their life situation or finances change. It's important to also talk about people's dreams and aspirations," says Liimatainen.
"Finding a home is very important. Having a place to leave from and a place to go home to," she stresses.
The cycle of unemployment and homelessness seems to be a growing problem especially among middle-aged men.
"Perhaps men are more likely to fall between the cracks and go it alone in situations where something happens in a relationship and they face losing their family. Society does not necessarily jump into action to help this group," reckons Liimatainen.
Nevertheless, it would be wrong to paint a single picture of homelessness.
"There is no pattern," stresses Liimatainen. "There is no specific group of people that is continuously unemployed or homeless. It could happen to any of us."
The Rehabilitation Foundation sees how homelessness and long-term unemployment can lead to other problems building up. People's problem-solving abilities weaken.
"Often in that situation there is no family or other support network to seek help from. And in some cases, co-operation with the authorities has not been smooth, making the whole situation even worse," she points out.
It is Liimatainen's hope that a person's image is not reduced to them being unemployed or homeless; it is only a condition of their life at this moment.
"No one wants to be homeless or unemployed. It's not something they chose, it's somewhere they have ended up. The most important form of help in that situation is a stable life."
Liimatainen places great value on the fact that organisations that support employment, advocacy groups for the homeless and parties offering subsidised rental housing are now starting to work together.
Homelessness is structural
In addition to the Rehabilitation Foundation, the #kämppäjaduuni project is also being run by No Fixed Abode and the rental housing company SATO.
No Fixed Abode is an advocacy organisation for the homeless that was founded in 1986 by homeless people themselves. It aims to improve the low threshold housing situation and reduce homelessness throughout Finland. The organisation also carries out long-term advocacy work to improve the status of homeless people and services for the homeless.
Finland's homelessness programmes are considered a major victory that has eliminated old-fashioned halfway houses. But there is much work to be done: No Fixed Abode's Executive Manager Sanna Tiivola says that every night there are still approximately 7,000 homeless people in Finland. Some 4,500 are in the Helsinki metropolitan area, 3,500 of whom in Helsinki.
"The situation has both improved and worsened. The lack of reasonably priced housing has been a problem in the capital city area since the 1950s. Even back then, the headlines of Helsingin Sanomat implored, 'Don't come to Helsinki, there are no apartments here'," says Tiivola.
"People are being blamed for the structural problem. My answer to the question of what kind of person is someone who is homeless is always the same: it's a person who does not have a home. Aside from that, they are no different than you or me."
According to Tiivola, the biggest unifying factor in the life situation of homeless people is income problems.
"Other issues are marginal. Alcohol and drugs and other problems enter the picture if homelessness persists," she says.
Individual support
Rental housing provider SATO has donated its Christmas card money to No Fixed Abode for several years now. A few years ago, we realised that we have apartments – couldn't we do something even more concrete than donating our Christmas card money?
Together with No Fixed Abode, SATO found partners in the Rehabilitation Foundation and the KUTU project, and thus #kämppäjaduuni was born. The model for the operations that began in 2018 was created by the partners.
"This is one small piece of a bigger whole, but it's certainly a fine contribution," says Tiivola. "All resources are welcome in this housing market."
The #kämppäjaduuni project was sparked by small, individual support. In the first phase, a home and the support of the co-operation partners was offered to around a dozen customers.
"Of course, this can't be offered to large groups yet, but it has been great to see some success so early on. This is a great way to start planning and experimenting. The work continues, and hopefully it will expand," says Tiivola.
In addition to finding customers a home, the support also extends, for example, to procuring furniture for them. SATO's broad partner network plays a role in job-seeking.
In her own work, Tiivola has seen the diversity of the homeless in Helsinki. There are thousands of stories, and every person needs an individual solution that works for their life. In fact, this is something that Tiivola has seen throughout her life. Already as a child, she spent time at Suoja-Pirtti, a care shelter for homeless men where her father worked.
"Even back then, it hit me that people are the same. That homelessness is nothing more than a situation that a person is in," she says.
There's no place like your own home
For Tarmo, the studio in northern Haaga, the suitable rent that was negotiated and the job he found at the Rehabilitation Foundation have formed a happy triangle that has allowed him to start rebuilding his life.
"Of course, home means a lot. It's more important than a job," he says, but after thinking about it for a bit, adds, "Well, let's say they're fifty-fifty."
"It's completely different living in your own home compared to living in someone else's home."
Tarmo believes that there is a great need for similar support solutions among the homeless in the Helsinki metropolitan area.
It has been a matter of honour for him to stick to the agreement from day one.
"When it's payday, the first thing I do in the morning is head straight to the computer to pay my rent. That's what I always do," he says proudly.
Read more about the #kämppäjaduuni project »