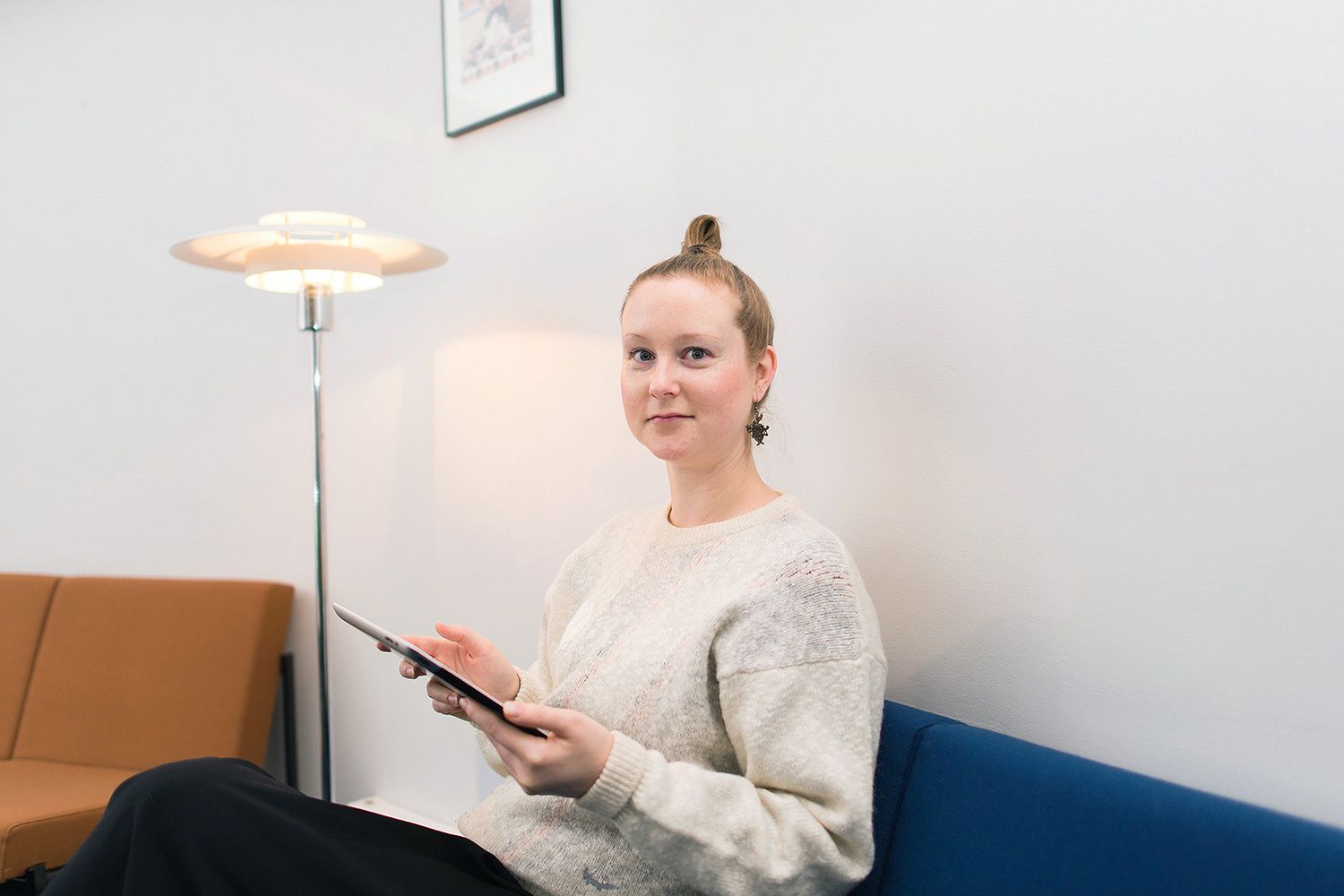 Intelligent services for daily life
Never before has living been smarter than it is today: new, intelligent homes are equipped with automated, optimised digital solutions that make daily life run more smoothly.
Digital services are not yet extensively available for rental housing. However, SATO decided to expand its digital services to make its residents' daily lives easier and to provide them with new experiences.
The products of the digital era are well known in Finland. Globally, electric cars and energy efficiency solutions are becoming increasingly popular with regard to homes and living.
Digital services help companies stand out in the rental housing market – for the time being
Katri Korhonen lives in a SATO building in the Sörnäinen district of Helsinki. For her, digital services are a natural part of daily life. In her opinion, it is important that services can be integrated seamlessly into daily routines.
"One-stop services are most attractive for residents. They are not interested in process and service production chains, but in practical benefits."
Korhonen believes that renewal related to fighting climate change and creating a stronger sense of community will increase resident satisfaction in the future. She would like to see various household services, such as grocery shopping and cleaning services, included in the services provided for rental homes.
"In the future, lessors could provide residents with apps for monitoring water and electricity consumption. Or they could invest in charging points for electric cars and bicycles, and cooperate with grocery shopping services, to name just a few examples," Korhonen says.
Both parties benefit from co-development, and by listening to the residents they can focus on services that genuinely create added value.
Better services through cooperation
The development of digital services that make daily life easier is part of SATO's strategy. The main purpose of the MySATO programme is to improve the company's digital offering in cooperation with the residents. The first phase of the programme was completed in summer 2017, when a new service for homeseekers was introduced.
The FindHome website makes finding a home easier by providing information about vacant rental homes. Its search function is easy to use, with various symbols indicating the properties of apartments at a glance, from cold cellar facilities to laundry rooms and from pets to lifts.
Development work at SATO is currently focusing on the MySATO service for residents, which will go live in the near future.
"MySATO will be launched during 2018, and it will be developed continuously. We have involved the residents in creating meaningful services, which have been discussed at development events for our customers and employees," says Johannes Ervamaa, Digital Services Director of SATO.
In addition, SATO continuously monitors customer satisfaction through its Pulssi resident panel. The panel is a relatively new addition, but it has already proven to be a useful development tool. Through the panel, a group of residents respond to a wide range of questions, from recycling to community.
"The data provided by the resident panel is an invaluable asset for us. Based on this data, we know, for example, that the residents want digital services to be related to practical matters, such as sauna reservations, maintenance histories and rental agreements," Ervamaa continues.
Innovation partners enrich services
As home and living are current megatrends, they also are an endless source of ideas. SATO is continuously seeking partners to provide residents with experiences, in addition to basic services. For example, SATO participated in the ReCoTech event in November 2017, and the company is planning to start a hackathon event related to MySATO.
"In the future, we intend to open MySATO's interfaces and seek partners through innovation events. This will enable us to find new types of benefits and create added value for living. Above all, we want to offer comfortable living for our residents over the long term.
MySATO will be further developed in line with the residents' needs and wishes, into a service platform that lives and develops with them.
The resident data collected by SATO is also key.
"With the help of innovation partners, we can study the data more carefully and find the exact kind of solutions that our residents want for their daily lives", encapsulates Ervamaa.