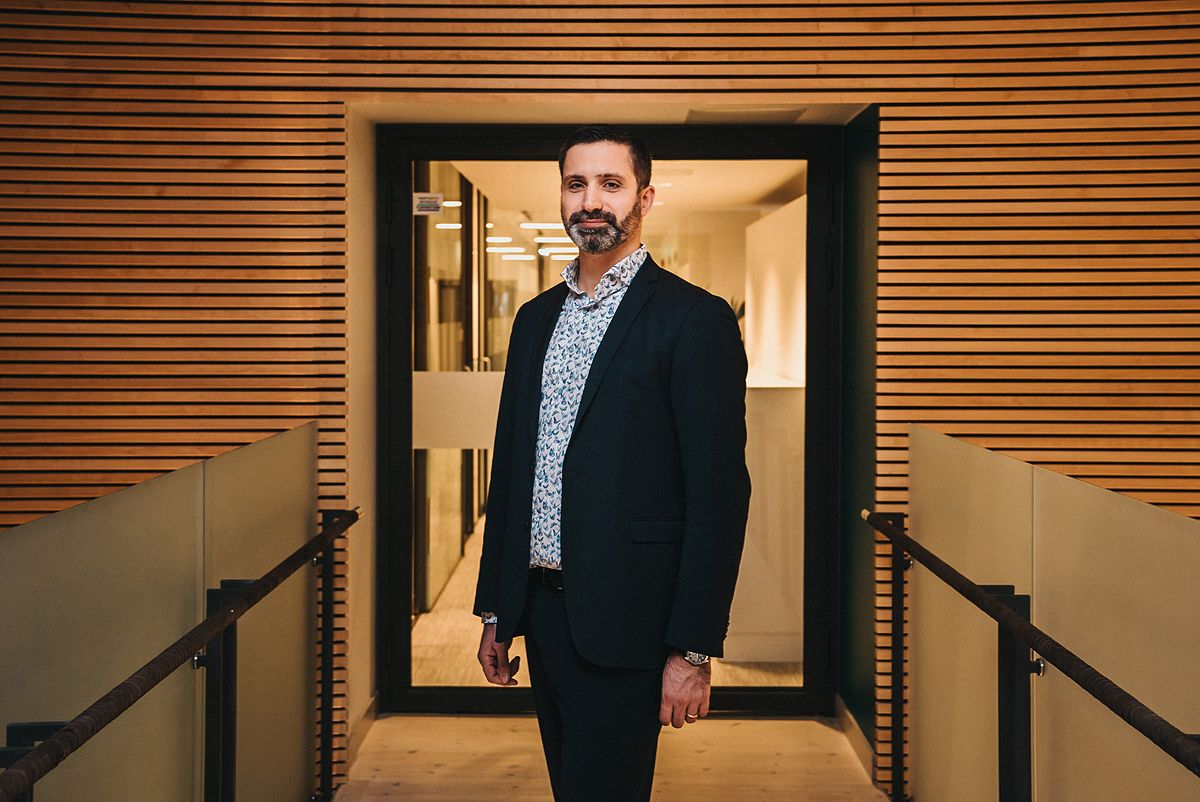 Durable and domestic bathroom materials in SATOhomes
The new Kide line of cabinetry is made from the same compact laminate that is used for the lockers of swimming pool changing rooms – and they come with a 25-year guarantee. SATO's purchasing team makes sustainable choices to enhance residents' lives.
When SATO began planning new bathroom furniture for its rental apartments, the starting point was clear: the furniture must withstand residents' use for a long time.
"It dawned on us at some point that bathroom furniture has a remarkably short life cycle. In some apartments, it must be replaced less than every two years. This is inconvenient for residents, and it takes time away from customer service, maintenance and contractors," says SATO's Director of Purchasing, Yaron Nadbornik.
Guided by the criteria of durability, quality and responsibility, SATO began searching for a new furniture supplier. Nadbornik stresses that low prices are not the focus of purchasing; instead, it is about finding the best solutions for residents and assessing the costs of the product throughout its useful life:
"At SATO, our goal is to invest in a long useful life and responsible, domestic choices. We use high-quality solutions and materials in our apartments."
25-year guarantee
The new line of bathroom furniture was created in cooperation with the Pirkanmaa-based Kankarin Kaluste. The Kide line of furniture was designed for SATOhomes, and the line includes Kide cabinetry, an Odi coat rack and Ino shower curtain rods, all made entirely in Finland. The products in the line come with a 25-year material warranty.
"The design of the furniture is exceptional in the sense that although it looks delicate, it is actually quite heavy. We have now been installing Kide cabinetry for roughly a year and, so far, the feedback has been very positive. Residents consider it elegant, spacious and easy to clean," says Nadbornik.
According to him, the compact laminate used in the furniture is commonly used for swimming pool changing room lockers, which must be extremely wear-resistant. Not a single complaint has been made about the furniture that has been tested in prototype bathrooms for two years.
"Such furniture must usually be wiped dry, for example, after a shower. These cabinets, however, are essentially maintenance-free, which makes living much more care-free," Nadbornik stresses.
Kide furniture can already be found in approximately 1,000 SATO rental homes.
Sustainably manufactured
Nadbornik praises Kankarin Kaluste for its flexibility and willingness to tailor a furniture line precisely to meet the needs of SATO's residents. When selecting the furniture company as a partner, another important criterion was its sustainable operating principles.
"Furniture made from long-lasting wood material of course also helps save natural resources, and it can also be more easily recycled or disposed of after use," explains Nadbornik.
"The accurately planned manufacturing process minimises leftover pieces, which Kankarin Kaluste efficiently combusts at its factory for energy."
The purchase price for the exceptionally high-quality furniture is naturally higher than normal, but SATO believes savings will be achieved in the long term, due to clearly longer intervals between replacements. The company's objective is to cut the life-cycle costs of bathroom furniture by half.
"We believe that cutting too many corners in construction and maintenance costs will end up costing more in the long run. At SATO, we aim for an outcome that we can be genuinely proud of. We know the real cost of going with a cheaper option," says Nadbornik.
Guarantee of quality
The Design from Finland mark granted to SATO and the Kide bathroom furniture line is a reflection of high-quality Finnish design expertise. The mark can be granted to a product, product range or service that has been created with design as a key focus.
User-friendliness is one of the most important criteria for being granted the Design from Finland mark. SATO focusses strongly on the customer experience, and the recognition has been granted to the furniture, furnishings and design of SATO's homes and shared spaces.
The Kide line has also received the Key Flag mark, indicating the product was made or the service is produced in Finland. In addition, the local content of the product or service must be at least 50 per cent
.