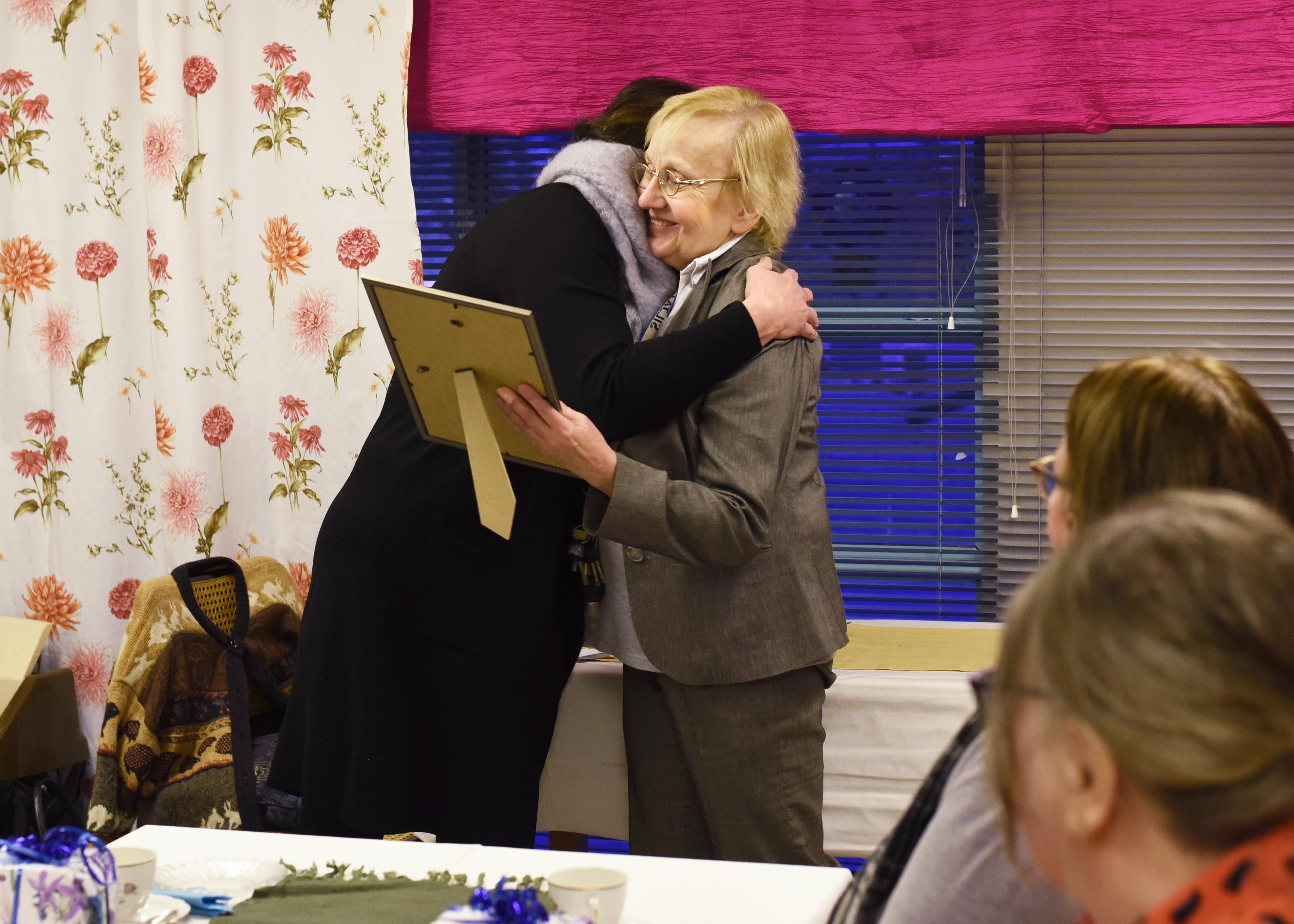 For the customer of the year, 'We' comes before 'Me'
SATO's Customer of the Year 2018 is Anne-Maarit Rytky from Helsinki. In her opinion, what makes a building home is that it is not just mine, but ours.
The clubroom at Tilkankatu 23 b is not on the smaller side, yet all the seats are already taken. There are salmon and ham sandwiches on a side table, coffee is brewing and the low-ceilinged room is buzzing with happy voices.
The crowd is here to celebrate Anne-Maarit Rytky, the powerhouse of the building, the chair of the residents' committee and SATO's Customer of the Year, who is receiving hugs from her neighbours and talking about her cat, which is "a bit nuts".
"It's been lovely living in this building. Here people laugh together and cry together. I wouldn't leave my rental apartment for anything in the world," Anne-Maarit says with a smile.
And no one will make her leave, that's for sure. Anne-Maarit organises Christmas parties and summer fêtes together with the other members of the residents' committee, keeps the yard tidy and is always ready to help her neighbours.
"Next, we will organise a disco for over 65s," Anne-Maarit says with a laugh.
The secret is us
What is the secret behind the team spirit in the building? Anne-Maarit does not hesitate before answering.
"The secret is us. Nothing or no one in particular; the fact that this is our building where everyone is considered equal."
When SATO's service manager Jaana Pallaskari called Anne-Maarit a few weeks ago and told her that she had been selected as Customer of the Year, Anne-Maarit was dumbstruck at first.
Then she started thinking what she could buy the "girls", Riitta Lehtonen, Helena Santavuori and Taimi Kiuru, members of the residents' committee.
With three small packages in hand, Anne-Maarit gives a short speech.
"Although I was selected, I want to give something to my lovely girls," she says, handing out the presents. They contain large yellow coffee mugs with a big smiley face.
"Every time you use these, remember to laugh."
The heart and soul of the building
Neighbours keep coming in to congratulate the building's powerhouse, who receives lots of hugs and bunches of tulips. Anne-Maarit takes a second cake from the fridge to go with the filled sandwiches and mini Karelian pies.
"Anne-Maarit is the heart and soul of our building. She wants us all to feel good. Her being selected as the Customer of the Year is the best thing in the world," says Riitta.
For Anne-Maarit, the feeling that you can help others is the best feeling ever. Seeing people enjoying themselves and wanting to be involved. And Anne-Maarit finds it hard not to be doing anything.
"I have a son who fell seriously ill and became disabled. I was with him in hospital for a year and a half, day and night. When he got home, he said that he's not the only person in the world. That was insightful."
When new people move into the building, they are informed of the house rules and they are given a tour of the building. If they want to be left alone, that's fine, but help is always available.
Helena and Anne-Maarit tell us about a family from Afghanistan that moved into the building in the autumn. The residents donated and lent furniture they no longer needed to the family and Anne-Maarit invited them to help with the seasonal gardening and maintenance work in the yard, despite the language barrier.
"The family's eight children went from lap to lap," Anne-Maarit says with a smile.
Old bicycles transformed into a flower bed
It's Tomi Koivunen's turn to hug Anne-Maarit. Tomi is full of praise for his neighbour and the Customer of the Year.
"Whenever there is even a tiny bit of snow, Rytky is there with a shovel. I'm really happy that we have someone like her here. If you run out of, say flour, you can always go ring her doorbell."
This winter's heavy snowfall has kept Anne-Maarit and other active residents busy shovelling. Many times, the work is already done when maintenance arrives.
"The maintenance staff do as much as they can. But none of us are in such poor shape that we couldn't give a hand," says Anne-Maarit, showing a text message that she received one morning from maintenance.
"Ha, you're too late, Anne, smoking area and gritting completed," the message says, and everyone laughs.
Anne-Maarit grabs Tomi by the sleeve and starts talking about a couple of abandoned bicycles that are lying around in the yard's bicycle parking area. They would make perfect flower beds!
"Let's plant some creepers in the spring and use a couple of old bicycles as trellises," she says, making Tomi laugh.
That's life in a building that is "ours".
Why Anne-Maarit?
This is why SATO's jury decided to select Anne-Maarit Rytky as the Customer of the Year:
Anne-Maarit does a lot for her building and the well-being of its residents. She is highly appreciated by her neighbours, ready to help and willing to co-operate. Together with the residents' committee, she makes sure things run smoothly.
Anne-Maarit is keen to organise events for residents and she helps all new neighbours if needed. The yard is kept pleasant and the garbage shed tidy, with Anne-Maarit, together with other residents, taking care of things, guiding others and doing the cleaning herself, if needed.