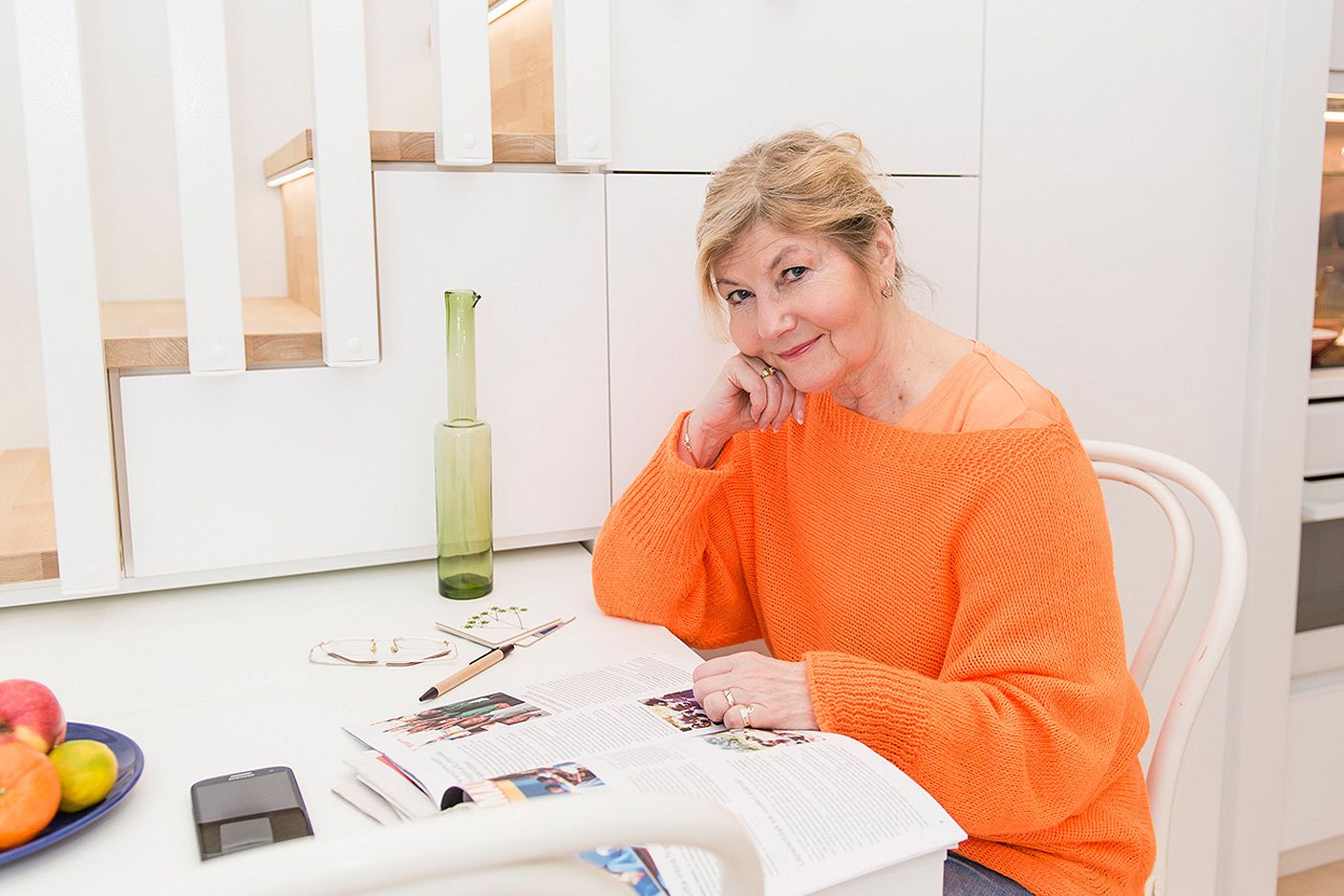 Love at first sight - Happy and social living in StudioHome
"It was love at first sight – I knew this is the one for me. I didn't even look at any other apartments, even though they were larger", Thea Kristiina Roos confesses in her new SATO StudioHome apartment.
Brainstorming joint activities
The fully packed StudioHome common area is buzzing on a Tuesday evening in December. Olli Järvenkylä, the building's community manager, is preparing his presentation before he starts to talk about the evening's agenda. As is appropriate at this time of year, tenants are talking about getting a Christmas tree and holding a Christmas party, any interest in organising a book club and preparing brunch for everyone who intends to celebrate Christmas in StudioHome.
In the end, the conversation turns to questions about living, as there is still work to be done in the recently completed building. Not everything is clear, such as the location of the fuse box. Järvenkylä responds to all questions presented by the tenants to the best of his abilities and writes them down in order to find a solution later.
"People are clearly starting to get to know each other and forming closely knit groups."
"We want everyone to be able to find their own way of being part of the community. Of course, some people are more social and approachable, whereas others are shyer and need more time to get to know people. Here, engagement is an opportunity, not a necessity", says Järvenkylä.
Love at first sight
The door to the apartment of Thea Kristiina Roos opens up to a spacious and peaceful atmosphere. It is surprising how much can fit in 15.5 square metres. A loft acts as a bedroom in most one bedroom apartments, adding more space to the tall room, and a dinner table can be folded from the steps leading to the loft. Roos keeps the table unfolded as part of the living room, without it taking too much space. The room also includes a small coffee table and an armchair. Roos says she immediately understood that the apartment is perfect for her.
"It was love at first sight – I knew this is the one for me. I didn't even look at any other apartments, even though they were larger. The application process consisted of three phases, and I was lucky enough to always make it to the next phase", Roos says.
The oldest tenant in the building, Roos, who was born in Kruununhaka, Helsinki, has lived in many different apartments. She had to move out of her previous apartment because of its unhealthy indoor climate. Roos who is finishing her first novel and ready to start the next one seems to be satisfied in her new apartment. She is intrigued by the social living concept of the building.
"Not everyone has to be friends. Here, nearly everyone is much younger than I am, but I thought that, if I remain open, I will definitely become friends with the other residents."
Roos came up with the idea of the already mentioned book club, and she is also interested in other joint activities.
"By setting up a book club, I thought that, if there are other residents who write for their own fun, we could read each other's texts. I also heard that one resident could act as an exercise or yoga instructor. We also have a place ready in the upstairs sauna area."
Peace and quiet for the first time
Joseph Capapas's second-floor apartment is a mirror image of Roos's apartment, but it has been designed to accommodate the needs of a busy student. For Capapas, who moved to Finland from the Philippines three years ago, this is his first own home after sharing his previous apartments with his friends.
"I was originally looking for an apartment of roughly 30 square metres, as I thought that I needed that much space. However, I saw a StudioHome video and was amazed about how beautiful an apartment of this size can be. I especially like the loft and having my own peace and quiet for the first time. I can do what I want and not take the wishes and needs of others into consideration. Above all, I can sleep as much as I want to without anyone bothering me", Joseph Capapas says.
Capapas worked as a nurse in the Philippines and found employment as a practical nurse in Finland. However, he also decided to study to become a nurse in Finland. Alongside his studies, he works in a service home for the physically disabled at Arabia.
Joseph says that StudioHome is an excellent place to learn more about the Finnish language and culture.
"Having a common area and meeting new people was an exciting idea. I haven't met everyone yet, but I want to make friends with all the residents, if that's possible. It's wonderful to share thoughts of your hobbies and your knowledge with others and to learn more about Finland. This is easy because most residents are Finnish."
The StudioHome Facebook group and WhatsApp channel are good ways for Capapas to learn the language. There, he can take part, in Finnish, in everyday conversations that might otherwise be inaccessible to many immigrants. The residents also use social media for many other things.
"When I wake up in the morning and make some coffee in the common area, I usually post a message on Facebook saying that coffee's ready. Many then answer that they're on the way. Conversations contain a lot of slang, and it's often hard for me to keep up. However, I learned a new word yesterday: säbä. I learned that it means floorball, and I hope I get to play it soon."
Seeking a new way of living
One of the StudioHome residents is community manager Olli Järvenkylä for whom work and time off are always mixing. However, he has attempted to clarify the boundary between the two towards residents.
"I've said that when I'm wearing a SATO sweater and badge, I'm on duty. Of course, I'm always happy to help my neighbours whenever I can", Järvenkylä says.
By increasing social living, StudioHome aims to put the sharing economy into practice.
"Residents share their tips and ask for and offer help through the building's Facebook group and WhatsApp channel. For example, they offer a lift if someone needs to go to the store or pick up furniture or something like that. The residents would also like to acquire shared vacuum cleaners. After all, the apartments are so small that one or two per floor would be enough."
"And soon we'll also have a jointly-used SATO electric car so that not everyone needs to own a car."
StudioHome is a SATO's pilot building based on two urbanisation trends: population growth and a lack of reasonably priced rental apartments.
"The purpose of this pilot is to find functional ways and practices to consider if they could be applied to SATO's other apartment buildings. If we can come up with ideas that we could expand cost-efficiently, our experiment will have been a great success."