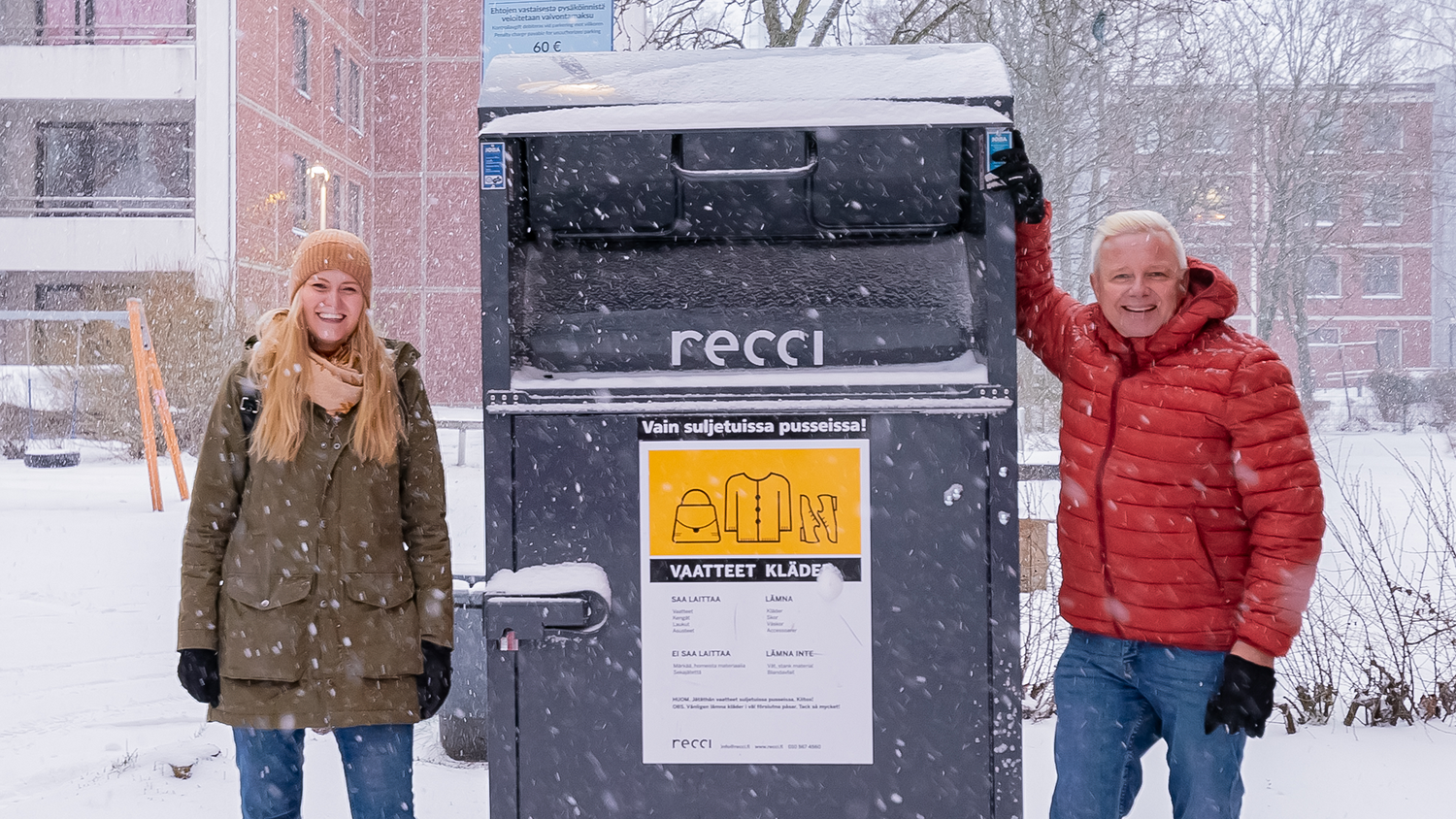 EASY RECYCLING OF CLOTHES – TEXTILE COLLECTION AT YOUR HOME BUILDING?
Each year, we consume up to 13–18 kg of textiles per person. Only 20% of these are ultimately recycled. In order to boost interest in recycling, SATO piloted a clothing collection point at its Kauppakartanonkatu property in the Helsinki district of Itäkeskus. Read about the results of the pilot and get tips on how to recycle clothing!
"Small changes can make a big difference towards a better world," muses Ari Suhonen, Service Manager at rental housing provider SATO. One example of such a small yet impactful change is to improve the recycling of end-of-life clothing and textiles.
At present, our mixed waste contains millions of kilos of clothing and textiles which, when recycled, could reduce the need to produce new raw materials.
A large portion of recyclable clothing ends up being wrongly disposed of because for now, it takes extra effort to recycle clothing. For the most part, clothing collection points can only be found in the larger cities and even there, they are sparse on the ground. But what if you could recycle clothing along with all your other types of waste?
A dedicated collection container for clothing and textiles was introduced at the SATO property Kauppakartanonkatu 17 in the Itäkeskus district of Helsinki.
"I wanted to make clothing collection easily accessible to our residents because I believe it to be both good service and the responsible thing to do. Residents now don't need to go out looking for a collection point," Ari explains.
How does clothing recycling work, then?
In July 2022, a metal collection container belonging to SATO partner Recci was brought to the waste station at the Kauppakartanonkatu property. Recci was responsible for container emptying and further processing of the textiles.
"Nice and easy", Ari sums up the experience.
Choice of partner is an essential component of sustainable clothing recycling. Residents should not have to worry about whether their clothes and textiles are ethically recycled. After all, history teaches us that third countries have suffered negative environmental and economic impacts from textiles rejected by the western world.

"Besides the climate impacts of end-of-life textiles, it has been important to consider also the ethics of the collection itself and its impacts on people and the environment. When choosing our partner and launching cooperation, we looked into the textile collection and processing chains very carefully," notes Susanna Kari González, Sustainability Manager at SATO.
Clothing recycling beyond the pilot
Both SATO and Recci were very happy with the results of the recycling pilot at Kauppakartanonkatu and the pilot will consequently be expanded. Little by little, other SATO buildings will also offer the opportunity of recycling clothing. Keep an eye out for your home building's information bulletins.
Clothing recycling is promoted by legislators as well, as it will become a mandatory part of municipal waste management in 2025. SATO wished to be in the vanguard of clothing recycling, however.
"One of the themes of our Sustainability Programme is sustainable housing. On-site textile collection is one way of helping our residents make sustainable choices in their everyday lives," Susanna adds.
Checklist for sustainable clothing recycling
Sustainability starts at the point of purchase. You should favour quality textiles that can withstand wear, and only buy new clothes when you really need them. Repairing a much loved but damaged piece of clothing can give it a whole new lease on life.
1. Sell or give away usable clothing and textiles, at flea markets or collection points, for example.
2. If a piece of clothing is no longer usable, its primary destination should be a collection point for end-of-life textiles. Click here to find your closest Recci recycling point.
3. Worn-out bed linens, towels and tablecloths also count as end-of-life textiles.
4. Pack the clothing and textiles in plastic bags so that they will not get wet or dirty.
5. Shoes, bags, belts, socks, underwear, pillows, blankets/duvets and soft toys should go to mixed waste.
6. Any mouldy, wet or oil-stained textiles also belong in mixed waste. Pack these separate from any clean textiles, however.
Click for more tips on waste sorting and recycling ›

Sources: Apu magazine